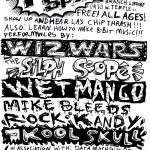 Chipmusician and performer KoolSkull has organized a free chiptune concert for all ages in Los Angeles, CA.
"This event is one part performances, and one part workshop, teaching people how to make chip music." says KoolSkull. "We will be offering CD's with free software pre-loaded, and we will raffle off some prizes! I will be personally showing you how to use 'Little GP Tracker'."
The event kicks off Saturday at the Echo Park Library and includes performances from the following LA Based chiptune performers listed below, as well as a talk with the artists and a workshop for the tracking program LGPT (little gp tracker). It should be a great event for both long time chiptune fans and for those newcomers that are interested in learning more about the music and culture of chiptunes.
Full show details:
When:
August 14th, 2010
2PM – 5PM
Where:
Echo Park Library
1410 w. Temple st.
Los Angeles, CA, 90026
Performances by:
The Silph Scope – Myspace.com/thesilphscope
Rock Kandy – Myspace.com/8bitter
Mike Bleeds – Myspace.com/bleedsss
WizWars – Myspace.com/wizwars
Wet Mango –  Myspace.com/thisiswetmango
KoolSkull Myspace.com/koolskull
via GameMusic4All