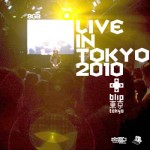 Drum and bass,  electronica, blip-master 8GB has just released a digital album of his 2010 chipmusic performance at the Blip Festival Toyko.  A clever blend of 8bit gear and modern quipment, 8GB gets the Bitpop thumbs up every time!
8GB Live in Toyko 2010 is available for immediate FREE digital download here
Why are you still reading? Download now!!!
OK, you want more?  You can download his previous (pure chiptune and total GENIUS) album Pravda from 8bitpeoples
This is so hot off the press I'm only listening to it myself right now.  I'm sure I'm hearing some tributes to MinusBaby here – I APPROVE!
UPDATE: OK, so I finished listening – wish I was there so bad!  Good work Akira!